There are a few things to take into consideration when choosing a hotel for your stay. You might be staying for one night only, during a business trip, and simply require a comfortable bed and a shower. The additional perks that may be included, such as a coffee maker, fluffy slippers and chocolate pralines, are only added bonuses that you may not even use. Other times you might be away with the family and require a large family room, or even connecting rooms. Here you might start to pay attention to the services offered by the hotel. For example, babysitter services during evening hours, kids amenities and a hotel that is adapted and designed with the smaller ones in mind. On other occasions, you might whisk away your partner on a romantic weekend and decide to explore the beauty of a boutique hotel. You may then ask yourself what it is that stands out about these stylish hotels.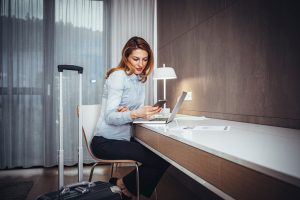 Hotels That Create Wow-Experiences For Guests
A boutique hotel is for guests wanting that little extra from their stay. visiting a boutique hotel is meant to be special and you are bound to be wowed by the uniqueness of this type of accommodation. The hotels are always smaller than the traditional hotel chains, where the focus tends to be on quantity, rather than quality. Boutique hotels can be located in prime locations in a capital city or tucked away in the greenery of the countryside. It is all about the design features, the meet and greets by the doorman upon arrival, and the personalised rooms. You will often find award winning restaurants that cater to the clientele that seek a tailored hotel experience. Not only will you have a beautiful room, but you will also experience a service level that goes way beyond your expectations. Because that is what it is all about – exceeding guest expectations.
Tailored Services During Your Stay
Boutique hotels are known for their dedicated and attentive staff, that not only remember your name but also caters to your every need throughout the stay. The focus is on the customer experience that starts when the doorman opens the door for you. Upon arrival, you may be asked if there is anything you require. Never be afraid to answer with anything that you have in mind. The service team, as well as the concierge team, are used to handling both small and big requests. There are even hotels that try to find out information about their future guests, in order to prepare for their arrival. If the doorman knows what you look like he will be able to greet you with your name. Your favourite drink may await in the room, accompanied by a local treat. It is always a good idea to involve the hotel staff if you are celebrating a special occasion, perhaps a room upgrade will await you or a special treat on the day. You would want to dress accordingly if the hotels offer a dining venue with white linen and candelabras. Pack a tailored suit or a lovely lace dress, accompanied by a pair of antique pearl earrings from Barnebys.co.uk, and you will blend in perfectly with the beautiful surroundings. Enjoy your stay!